After about 5-6 years of waiting thanks to the slow pace that has been going on at the Department of Transportation and Communication, (thank you Sec. Mar Roxas and Jun (P)Abaya!) the Urban Roamer is happy to report that finally work is now commencing on the Line 2 East Extension…for real.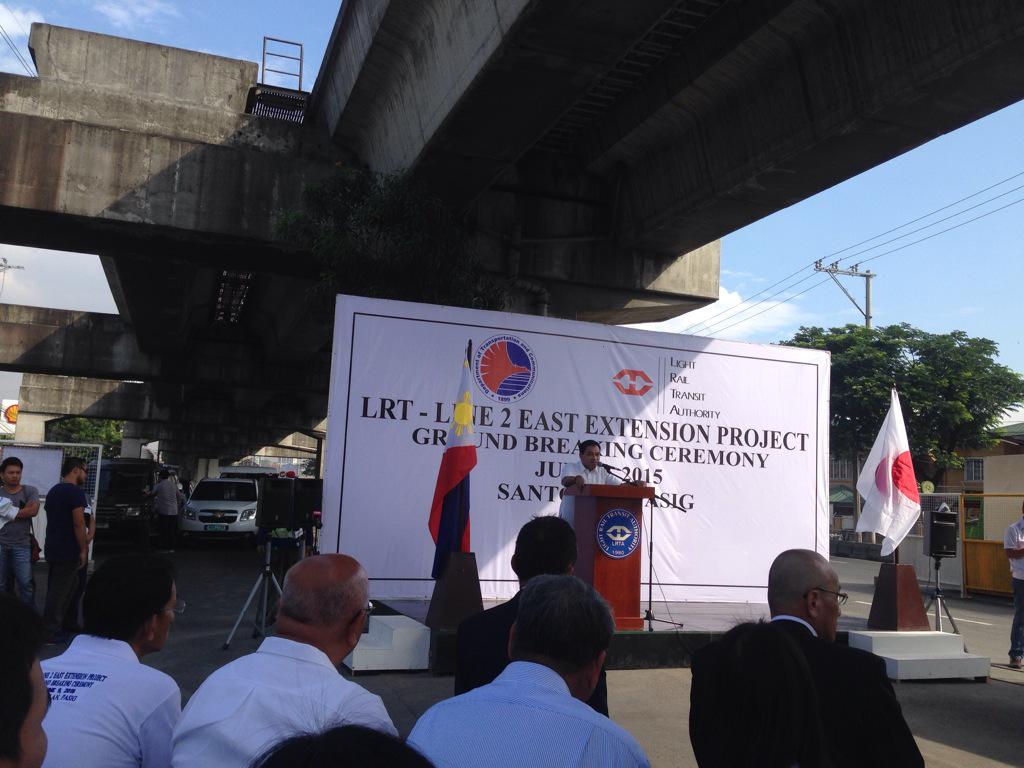 Yesterday, June 9, marked the groundbreaking of the said project which would involve extending the present line of the Light Rail Transit Authority (LRTA) ending at Santolan to about 4.2 kilometers east in rail length and two additional stations: Emerald Station in Pasig near Robinsons Metro East Mall and Sta. Lucia Mall and Masinag Station in Antipolo. For those who are based on the eastern part of Metro Manila and of Rizal, such as myself, this is a big deal and a project we have long been anticipating to happen.
To understand this anticipation, one can look at the developments going on in and around the metropolis, especially in terms of transportation. While Southwest Metro Manila and Cavite has the Coastal Road-CavitEx road network and the planned Line 1 South Extension, (which is another long overdue mass transit project, but that's another story) Southeast Metro and Laguna having the South Luzon Expressway and the PNR Commuter Line, (soon to be upgraded as the Southrail) North Metro and Bulacan with the North Luzon Expressway as well as the long-planned but still stalled Northrail and Line 7 projects, the Eastern Metro and Rizal does not have an improved road network that would help serve the growing population area. The existing road networks there such as Marcos Highway, Ortigas Avenue Extension, and J.P. Rizal-Gen. Luna are somewhat inadequate to serve the future needs of this area that is undergoing rapid development in recent years. Thus, a new rail or road network is very welcome.
Besides, the Line 2 system is pretty much reliable and faring well compared to the other lines in the system, especially the cursed Line 3 along EDSA with its notorious issues it is having. An expansion is very much due and well-deserved for this metro transit line which I can say is a transit done right, though it does need some improvements as well.
Not only this marks the first time Rizal gets a new connection to Metro Manila, (via rail in this case) this also marks the first time an area outside Metro Manila is finally connected to the metropolis via rail transit. Such connections are long overdue and badly needed; I hope this development will finally get the ball rolling on the other mass transit projects that would connect the metropolis to nearby provinces.
It is expected that the Line 2 East Extension project will be completed by 2017. Once completed, this will be of great benefit for many who commute daily to and from Rizal and Metro Manila and spur further development along the area it will traverse, considering that area is pretty much developed as it is right now. For the meantime, we would have to bear the traffic that would arise during its construction, which is expected to begin by the end of this month.
===========
Speaking of Line 2, another related development that should be a source of great anticipation is the Line 2 West Extension Project which looks at extending the transit line westward from its original end station at Recto Avenue between Rizal Avenue and Quezon Boulevard towards Divisoria and North Port area.
Three additional stations are planned to be built: Tutuban Station near Tutuban Center mall, Divisoria Station near New Divisoria Mall, and Pier 4 Station in North Harbor.
Once completed, Manila's Line 2 would be one long, highly connected transit line that would span from Manla Bay to the mountains in the east. Given also it will serve the port and Divisoria, it is expected to be a busy line with the flow of people to and from these areas.
At this time of writing, the National Economic Development Authority (NEDA) has given approval of the project for implementation within  and bidding for this project is expected to be held around the first quarter of 2016 so work can begin…
…as long as this project is not jinxed by the incompetence of (P)Abaya and his men.
Acknowledgements as well to GMA News Online, Manila Standard Today, and BusinessWorld