Valentines Day is upon us here in the urban jungle. Coupled with the fact that Valentines falls on a weekend could only mean worse traffic situation, (that is if the traffic being regularly experienced is not worse enough) worse queues and throngs of people at restaurants, hotels, motels, whatever traditional Valentines spot you may have in mind. Worse enough for one to seriously consider putting those Valentines plans on a different day instead just to avoid the crowd.
It is also a time for businesses and other advertisers to put out their best creative efforts in sending forth the message of love this season brings alongside their need to promote whatever product or service they offer. Who can forget Empire East's ingenious effort last Valentines when they put out those "Olivia" ads which generated a lot of interest due in part to the mystery involved?
This year, another Valentines Day ad generated a lot of buzz in the metropolis, this time put out by Philippine retail clothing company Bench. But it's a buzz not generated by mystery but by controversy, not to mention some 3rd party creativity that came with it.
The ad in question is actually part of a series of images put out by Bench in celebration of Valentines Day. The concept for this series is called "Love All Kinds of Love" which, as implied, aims to show appreciation to the kinds of love people express. The set was posted at the regular Bench billboard venue at the northern end of the EDSA-Guadalupe Bridge in Mandaluyong along the Pasig River and it showed four Bench celebrity endorsers and their respective "loves":  veteran actress Gloria Romero and grandson actor Chris Gutierrez, model and TV host Solenn Heussaff and fiancé Nico Bolzico, Preview magazine creative director Vince Uy and boyfriend Nino Gaddi, and makeup artist Ana Paredes and girlfriend interior designer Carla Peña.
Knowing the identity of the people in the billboards, the latter two would surely raise some eyebrows, especially from the conservative sector. Interestingly though, what some people (allegedly) are taking offense more was the billboard image that involved Uy and Gaddi, which showed them both holding hands. Apparently, two guys holding hands is considered a no-no that after the billboards were unveiled, the image of those holding hands was "blacked out" of that particular billboard. Or as Bench Advertising and Promotions Manager Jojo Liamzon puts it in an interview, "The ad board thinks holding hands is too gay."
The ad board referred here is the Ad Standards Council; interestingly they have denied they were the ones behinds blacking out the image, saying that they are not a censorship body but more on "self-regulation." They do believe though that "advertisements should not be offensive, derogatory nor should [they] alienate certain sectors of the community."
Bench is one of those advertisers who know to well about controversy in advertising. At times their provocative advertising, especially men and women with less clothing on, has raised the ire not only of some conservatives but even authorities like the Metro Manila Development Authority who have branded these advertisements as offensive. In this case though, the ad has found supporters mainly from progressive-minded folks and the LGBT (Lesbian, Gay, Bisexual, Transgender) community who have lauded it as a "monumental and progressive" move.
The matter soon evolved into a viral social media campaign called "#PaintTheirHandsBack" as artist Rob Cham kicked off an effort to put ththe hands back in that now-blacked out part of the ad in a creative manner. Other artists soon followed with their own interesting takes. You just have to check out the artworks that have been curated in Rappler and StyleBible to see those interesting takes, ranging from cute to bizarre.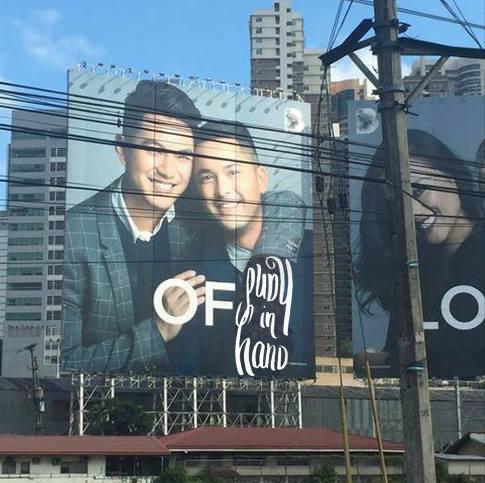 As the issue of LGBT rights remains a sensitive issue for some members of society, it is indeed bold for a company like Bench to put forth such a strong statement in support of these rights. It remains to be seen how this will turn out, whether it would mean at least we get to see those hands again. As they say, love can be a complicated thing.